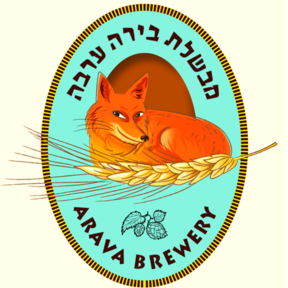 OUR STORY
In the beginning, there was nothing here!!!
We came along later...
One hot summer evening, no dog barked, all the stars in the sky were twinkling
and the moonlight cast the silhouette of a tree on a long line of ants. Our boy had long fallen asleep.
There we sat, in the Village of Tsukim in the central Arava Desert region, on the balcony of our home, my wife Hadas (a food technologist) and I (an agronomist). We were craving an ice cold beer, vibrant and refreshing, fruity, indulgent and bitter.
But there was none to be found ...
That evening was burned bitterly in our memory only to be conjured up again several months later when we visited the Golan Brewery. We pondered the possibility of making a beer ourselves, which would always be available, tasty and fresh. Hadas already knew what I wanted as a birthday gift ...
That was in 2007 - I got a kit for making homemade beer.
We wanted to make a desert beer that would reflect the nature of the region, which would be tasty and deep. We tried different flavors and spices. A lot of beer poured out like water to the sink and much of it we had to drink (there was no choice ...). Meanwhile, the pots grew, the pipes grew longer, and the number of refrigerators in the house grew as we continued...
The recipe for our Amber Katzra beer was born.
Amber Katzra is an amber-colored beer with velvety texture (there is foam when pouring), alcohol at medium level (you can drink a lot), fruity and sweet. It's very tasty in the first gulp and interesting (to the one who is interested) in the second gulp.
Inbar is the main beer we produce, and there are two other types of stout beer.
The Arava Brewery was established in the beginning of 2014 at the entrance to Tsukim and provides fresh and tasty beer, not just for us, but also for the residents of the area and their guests.
After years of home brewing, we bring you the best and (as we believe) the most delicious beer there is, which is most closely related to the brewery and its production date. The brewery spans 100 square meters and we brew around 200 liters per round.
The raw grains are ground and refined on our premises, which contributes further to the complex flavor and amazing quality of Arava Beer. In order to maintain maximum freshness, we distribute the Katzra beer mainly in the Arava region, plus we are meticulous about producing as many fresh rounds as possible.
Finally, "Katzra" is named after one of the beautiful streams in the Arava which runs through the Nabatean Spice Trail.
You are invited to come see, and taste for yourselves!
Cheers,
Hadas and Ohad Katz
Hours of Operation:
We have a public tasting event every Thursday at our Brewery. We also receive visitors from Sunday to Friday, by appointment only!
Wholesale Info:
Our delicately & deliciously crafted beers are a perfect fit for niche stores, neighborhood bars & special events. For large batch enquiries, please get in touch
Keywords:
Arava Brewery, Arava Beer, craft beer, microbrewery, Arava Desert, beer tasting, brewery tours, live music, amber beer, Arad
No followed people