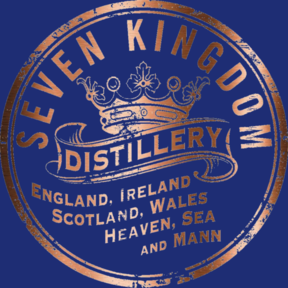 OUR STORY
Our on-site distillery began production in August 2017, with our first spirit (Batch 1 Douglas Dry Gin) running from our still on the 5th August. We are a small distillery, which specialises in ultra-smooth, delicate, balanced, spirits. We produce using a 150l German copper pot still made by the Kothe factory in Eislingen. Our still (Helga) is clad in polished stainless steel, which (aside from looking beautiful) gives us fantastic heat retention, and therefore efficiency, meaning we can run the still up to 5 times per day for gin, or 4 for distilling wash. Nearly all our equipment has lived former lives: Helga used to make fruit brandies in Germany, our tanks come from breweries, dairies, and farms, and our expertise come from the wine industry! Our spirits are blended with Manx water which we put through a reverse osmosis filter for consistency and are all bottled and labelled on site. Each bottle is filled and labelled by Ian , meaning our products are truly hand-crafted!
VISIT US
Seven Kingdom Distillery is situated at the top of the North Quay in beautiful Douglas on the Isle of Man. We are 3 excellent things in one – Craft Distillery, Popular Bar, and highly-rated Restaurant – all under one roof!
Hours of Operation:
Distillery: Mon-Thurs 12pm-11pm & Fri-Sat 12pm-12am, Sun CLOSED... Food Served: Mon-Sat 12pm-2pm & 6pm-9pm
Wholesale Info:
Our spirits are already available in selected stores, bars and pubs. If you'd like to add our fine drinks to your list, please contact us
Custom Orders:
Interested in creating your own signature gin or vodka? We can do limited bottling runs for corporate or special occasions, business gifts, wedding favours, etc.
Keywords:
craft gin, craft vodka, artisan gin, artisan vodka, Isle of Man, craft distillery, distillery tours, Douglas Dry Gin, handcrafted, brandy, brewery, bar, restaurant, copper still
No followed people