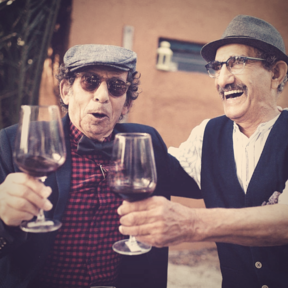 OUR STORY
Natuf Winery was founded in 1997 in Kfar Truman by long-time friends Meir Akel and Zeev Zinman. Natuf produces fine red wines of noble varieties, Shiraz, Cabernet Sauvignon, Merlot and Bland "Three Noble".
The Winemakers utilize a combination of traditional and modern technology, in order to reach a fine product with aging capability. The grapes come from established sections of well-kept vineyards located on the slopes of the Ayalon Valley.
The wines are aged between one and three months in American or French oak barrels, and they're bottled when the wine reaches maximum balance between fruit and wood, tannin, aroma and body. After bottling, the wine undergoes an additional two years in storage conditions.
From the harvest day until the cork is removed, it takes at least three years. Natuf wines are unfiltered so as to preserve maximum flavor and aroma!
 
The Winery is considered one of the finest boutique wineries among Israeli wine lovers.
Hours of Operation:
Natuf Winery is open most days of the year for wine tastings, bespoke events, workshops and much more. For visits & event bookings, please get in touch!
Wholesale Info:
Our fine wines are stocked in bars & restaurants around the country. To feature Natuf Wine in your establishment, please contact us.
Annual Production Output (approx) :
The winery produces 5,000 bottles a year.
Phone Number:
052-358-1587
Keywords:
Natuf Winery, Red Wine, Three Noble, Shiraz, Cabernet Sauvignon, Cabernet Franc, Merlot, Kfar Truman, Tel Aviv Winery, Wineries in Tel Aviv
No followed people