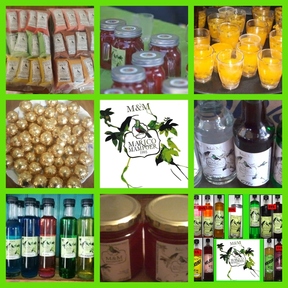 WHO ARE WE?
We at Monate Marico Mampoer (M & M Mampoer) are legal Mampoer distillers from Groot Marico, North West South Africa. Having been in the business for over 20 years, we distill our Mampoer in the traditional way. We have various products, ranging from Mampoer 60% to Liqueurs 24% and Artisan chocolates.
WHAT IS MAMPOER?
When it comes to food and drink, South Africa is most famously known for her braais, biltong and top-notch selection of wines. Beneath the radar, you will also discover some quite unique drinks… of quite an alcoholic nature.
One of those drinks being Mampoer, which some describe as a South African Moonshine. Fermented from fruit, Mampoer it is among the world's strongest drinks, containing anywhere from 50 – 80 percent alcohol! It's a drink made for those who crave adventure and unique flavor!
Until now, Mampoer could only be found in the rural farmlands of South Africa, but now you can find it right here online! Alternatively, if you happen to be in the area, a visit to our unique friendly Distillery will be an eye opening AND mouth watering experience.
Hours of Operation:
Monday to Saturday 08:00 till 17:00
Additional Info:
If visitors book for a tasting a deposit of 50% will be charged to confirm booking.
Wholesale Info:
We can provide personalized labels for your Mampoer bottles (private or corporate), plus we'll be happy to hear from you regarding bulk orders!
Social:
Facebook - M & M Mampoer
Keywords:
Mampoer, Mampoer Distillery, South Africa Tours, Moonshine, Artisan Moonshine, Moonshine Distiller, Craft Distillery, Farm Tour, Peach Brandy, Brandy, Fruit Brand, Distillery Tours
No followed people