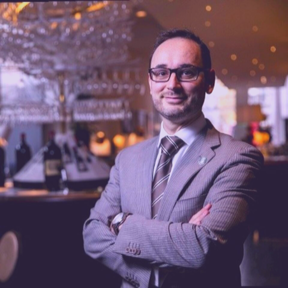 "I've been lucky enough to dedicate myself to something I really love, and I'm passionate about it. I have pure reverence for the world of wine, it's something magical"
Agustín's Story
He was born and grew up in a small town in Ávila; El Tiemblo, an area of ​​Spain known for its old Garnacha vines. He grew up with his grandfather's homemade wine, but it wasn't until he came to the United Kingdom in 2001 when Agustín decided to start his career in wine.
The beginning was not easy for him, he worked in several restaurants and hotels in the UK. These included The Great Foster Hotel in Surrey, and Oxford hotel The Randolph, both five-star. At the latter he spent six years, joining the team of sommeliers as commi-sommelier and leaving as Head sommelier. In 2009, he moved to the City of London to Andaz five-star hotel, as Head Sommelier.
Agustín completed stages in world-renowned restaurants; The Fat Duck by Heston Blumenthal and El Celler de Can Roca, both with three Michelin stars. At the end of 2012 he joined the luxurious Launceston Place restaurant in Chelsea, where he contributed to achieve its first ever Michelin star!
​
Agustín won prestigious awards for his wine list, Tatler Best Wine List Award and the Award of Excellence from Wine Spectator Magazine, thus rewarding his work. In 2008 and 2009, he won the "New Zealand Winegrowers" & "California Wines" competitions respectively, by The UK Academy of Food & Wine.
In 2012 he finished the last level of WSET; Diploma, then year later, he also passed The Court Master Sommelier Advanced exam. Nowadays, Agustín is preparing for the Master Sommelier title, the highest qualification possible in his career!
​
Currently, he advises restaurants and hotels to develop their business, managing their wine programmes and training their staff. As well as organizing master classes and presentations for wine congresses and wine events.
Keywords:
Sommelier, Wine Expert, WSET, Wine Tasting, Wine School, Sommelier Spain, Sommelier UK, International Sommelier, Remote Sommelier, Sommelier by Skype, Private Events, Wine Tastings, Corporate Events, Wine List, Michelin Star, High End Restaurant, Fine Dining
No followed people