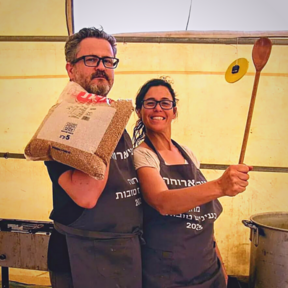 "We love people, personal stories and street art as much as we love good food. So alongside the cuisine and rich flavours, we share our other passions which are art, Israeli architecture and local history, as it is expressed through the stories of the owners of the utensils."
Who are we?
Meet Sharon and Yael, a couple from Haifa. Yael's family have been in the city for 5 generations. She is a Doctor of Biblical Studies and a lecturer with a background in restaurants and confectionery. Sharon is an architect and interior design lecturer. As eternal travelers, they have already visited 60 countries in the world, and counting.
How did we get started?
In 2017, we returned from a year trip around the world, and turned our old hobby into a business called Haifa Shuk and Cook. We discovered that we have collected lots of stories, acquaintances and knowledge about the interesting places of Haifa that many people want to learn about. We initially assumed that the interest would be from foreign tourists. However, it turns out that 99% of those who join our tours are are Israelis, and even 'Haifans' who enjoy getting to know their own city through fresh eyes (and tastebuds). Along with the culinary tours, we also host cooking workshops and tavern meals, hence the Cook part of our name. Staying close to our roots, we specialize in the city of Haifa and guide only there, nowhere else.
Overview of our tours
Our tours focus on the old areas of Haifa such as the Talpiot market, the lower city of Haifa and Wadi Nisnas. These areas are the most interesting to us because, as well as the longstanding established bakeries, cafes and delicatessens, there is also plenty of beautiful stone architecture and history to stumble upon. On our tour of downtown Haifa, we encounter the fascinating graffiti art and explore how the area evolved from a humble fishing town to a large modern city. We taste the variety of ethnic flavours that are represented throughout the city, including: Turkish pastries, Balkan meztis, patayer from Arab cuisine, Asli roasted coffee and cakes in an Austro-Hungarian bakery that has been around since 1948. Most of the eateries we explore in the lower city are second and third generation family owned, and they love to share their stories with us.
Keywords:
Haifa Food Tours, Israel Food Tours, Shuk Tours, Market Tours, Food Market, Israeli Foodie, Cultural Food Tours, Food Tourism
No followed people