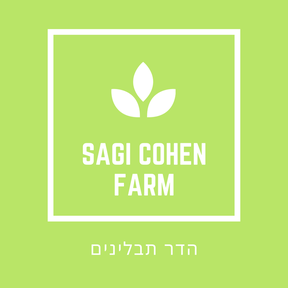 Our Story
We are an agricultural farm in Moshav Prazon, a village located in the Gilboa Mountains region of Israel. Our family has been growing vegetables for 3 generations, and for the last 26 years we have been growing special spices, herbs and vegetables for export around the world, particularly Europe.
Past & Present
Our current generation is led by Sagi Cohen, husband and father to 4 children. Cohen's grandfather (Ovadia) established the farm immediately after arriving in Israel from Kurdistan, and his father (Zion) continued the tradition as the family spent years cultivating the field crops and growing a fine selection of garlic, onion, cabbage, watermelon... He even held a cowshed! Naturally, Sagi went on to continue the chain, and in 1996 began to specialize in growing spices for export. Over time, the business grew and became a leading supplier of greens and spices for export.
What We Offer
The farm comprises of 2500 hectares of agricultural land throughout the northern region, which grows green herbs and spices that are exported to supermarkets abroad, including Europe, the US and the Far East. In addition, the "Sagi Cohen Hadar Spices" farm grows a selection of crops for local networks, such as; Asparagus, leeks, kale varieties, baby leaves, artichokes and more. In his farmland, Cohen also owns a large packaging house, where the spices and vegetables are sorted and packaged for export and the local distribution.
Awards
As part of the annual crop and farming expo in Ein Herod, Sagi Cohen picked up the coveted Farming Excellence Award of 2018.
Coronavirus Farming Crisis
With the current Coronavirus outbreak most flights have been grounded, which means that our crops are stuck in the field and going to waste! In addition, we have 70 employees that are dependent on us for their livelihoods.
To navigate our way through this crisis, we are now trying to sell our produce via direct marketing to homes, or businesses that are operating in accordance with all safety rules.
Wholesale Info:
We supply local restaurants and Export to supermarkets around Europe, US & Far East. Contact us for more info.
Annual Production Output (approx) :
2500 hectares of various green vegetables, herbs & spices
Phone Number:
+972-50-247-7777
Keywords:
Farm to Table, Agriculture, Farmers Market, Vegetable Delivery, Greens, Asparagus, Green Shake, Fresh Herbs and Spices, Farms in Israel
No followed people