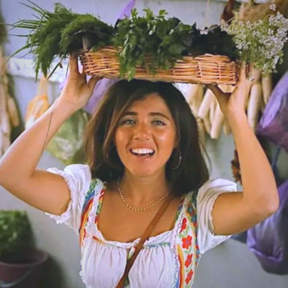 Welcome to Nino's Garden!
Who is Nino?
A few short years ago, Georgian born Nino Pichkhadze packed herself up and moved to Israel. She had absolutely no idea whether she wanted to continue her teaching career in a new and unfamiliar environment. But then Corona and lockdowns came along, and Nino encountered a new challenge - what to make at mealtimes? With all the restaurants being closed and a hungry husband, Nino had to get creative:
"Well, how is it? I'm a Georgian woman and I won't be able to cook dinner?"
That's when it all started! The self-taught chef mastered and perfected the art of Georgian cuisine using traditional family recipes that have been handed down through the generations. Now, with a broad repertoire under her belt, Nino can easily whip up anything Georgian, ranging from hot satisfying meals to intricate desserts and pastries. With her bubbly and dynamic personality, Nino is also adept at handling large groups and keeps her clientele entertained. She even caught the media's attention and recently starred in the famous Israeli TV show, 'Game of Chefs'.
What is Nino's Garden?
Nino's Garden is a magical little hideaway that can be found between the cobbled streets of the enchanting Jaffa neighborhood in Tel Aviv. Forget the idea of a typical night out at a restaurant. Nino's Garden offers a new concept where you get to 'dine in' and enjoy traditional authentic Georgian cuisine in a homey and cozy atmosphere. Your chef and host, Nino, will make sure that your taste buds are satisfied whilst entertaining and educating you about her Georgian roots.
In her garden, Nino also offers unique and fun dough workshops, focusing on complex Georgian pastries such as Khachapuri Adjaruli (Georgian Cheese Bread Boat), Khinkali (Georgian Cheese Dumplings) and other traditional breads and sweets. The workshops can be designed for adults or children.
No matter what you are looking for, Nino will come up with the perfect plan to suit your needs.
Keywords:
Georgian Restaurant Tel Aviv, Georgian Food Workshops, Dough Workshop, Fun Day, Child Friendly, Group Dinner Ideas
No followed people