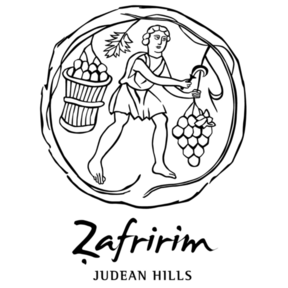 About Us
Tzafririm Winery is a boutique winery in Moshav Zafririm in the Judean Hills. We opened the winery in 2004 in the yard of our farm in Zafririm and today produce around 7,000 bottles of red wine per year, mainly blends. Since 2014, Rosé has also been produced.
We reached the field of wine making from the fields of archaeology and the arts. We pour our love for the country in general and the region in particular, year after year, into our wines, which are named after the ruins near the vineyards where we produce the wines.
We love to host at the winery and share the knowledge, the sights, the smells and tastes with visitors, because we believe that "wine connects people."
You are invited to come visit us, in an organized group, with friends or family, and enjoy the rich smells and flavors.
Hours of Operation:
Friday - Saturday 11:00 - 16:00. Rest of the week by appointment only.
Annual Production Output (approx) :
7,000 bottles
Keywords:
red wine, red blends, zinfandel, wine collector, wine history, wine tours, Ella Valley, Lavnin, Syrah, Petite Syrah (Dorif), Cabernet Franc, Cabernet Sauvignon
No followed people