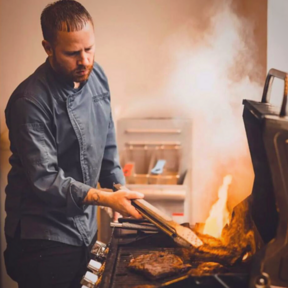 About Me
"I love everything about food - the presentation, the colour, the taste, the texture and smells, I love experimenting with flavours and blending creativity to produce those great flavours."
Chef Kyle Bianco, a New York native, has been working with food since childhood. After tragically losing his father at the tender age of 10, Bianco became entrenched in the food industry via his uncle's wholesale Italian food business where he would help with deliveries. At 15, he got his first official kitchen placement washing dishes and working various kitchen jobs before being hired by executive chef, Andy McFadden at Robert Trent Jones Golf Club in Gainesville, Va.
Following a three-year mentorship under the close guidance of Chef McFadden, Bianco became executive sous chef and eventually went on to become Head Chef at the prestigious award winning Carmello's of Old Town Manassas. He also spent time working alongside the world-renowned Israeli Chef, Meir Adoni.
These days, Chef Kyle Bianco is busy providing private chef and catering services to communities of Miami and Florida. With plenty of experience catering to large exclusive events and private parties, he is not fazed by pressure. Bianco works closely with his clients to design the perfect menu. He is also no stranger to kosher cuisine, and partners with a 'mashgiach', when required.
Keywords:
Private Chef Near Me, Chefs in Miami, Party Chef, Bar Mitzvah Chef, Private Chef Florida, Event Catering, Kosher Chef, Kosher Catering
No followed people